If you are looking to freshen up your home or build a new one in 2022, it's important to stay ahead of the curve and select tiles that are going to be in fashion for many years to come.  Over the past couple of years, we have seen designs such as terrazzo take centre stage and it will continue to be a strong performer in 2022 – so what's next?  There are several tile trends in 2022 that we'd love to share with you. Keep reading to see what's going to pop in 2022 and the best tiles to select for your project.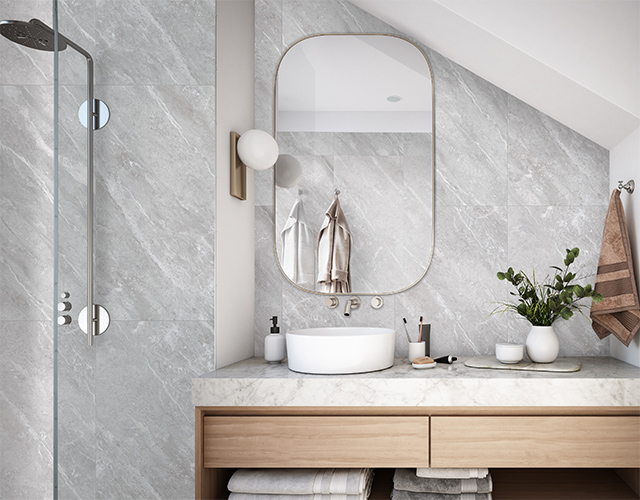 Size Up
Large format tiles have been gaining in popularity as designer find new ways to use them. From feature walls to outdoor living spaces and kitchen splashbacks, large format tiles are a design statement in any home.  The range of designs and colours available in large format is expanding fast, including the ever-popular terrazzo look, natural stone look and concrete look tiles.  From large squares measuring 600x600mm to 1200x600mm rectangles, large format tiles evoke a seamless appearance and provide a sense of openness.

Time For Colour
Coloured tiles are back! White and neutral tiles will always be a staple, but colourful tiles are popping up everywhere. Everyone loves colour and as we become more reliant on digital, people are looking for colour when it comes to beautify their homes. From Pistachio Green to Hamptons Blue, single colour or pattered tiles, no matter what room of the house, colourful tiles are perfect for any space that needs a little lift. If you are not big on bold, introduce small hints of coloured tiles balanced with neutral tiles.
 
Connection To Nature
Having a desire to connect with nature is evident in the 2022 colour forecasts.  Natural colours and organic textures and designs make us feel good and can bring a sense of warmth and depth into your home.  Concrete and natural stone look tiles are still hot tile trends for 2022 as are earthy colour tones which have been the new neutral colour for a while now given they are so versatile. The 70's-inspired trend is also driving a major design change, with sunbaked desert and rich hues such as Mustard and Olive at the forefront. 
 
Geometric and Symmetry
The trend for tiles is become more obviously geometric whether it be in format or pattern.  Curves are still hotter than ever especially quirky wavy forms or the more imperfect organic curves.  Rectangular tiles such as subways remain popular, however we are seeing many more shapes being experimented with to make a space more interesting. Geometric tiles can be used on a large scale to set the tone in a room, or they can be used as a feature to create a bold pivot from the rest of the room.  
The tile industry is set to see some exciting products being released in 2022.  From new colours and patterns to new textures and formats, you are guaranteed to find something that is going to provide you with a timeless look.  If you are looking to renovate or build new in 2022, starting your design journey with tiles opens up an opportunity to build a space in your individual style.  Go online and research first, then seek advice to be confident in selecting a tile combination that best suits you and your lifestyle.   Still unsure where to start? At Sanctuary Makers we design and manufacture our tiles here in Australia and can assist you with design, selection, and project advice.   We'd love to hear from you and discuss your next project, so get in touch and benefit from our expert advice.