Time and time again we hear customers say that they want to achieve a modern aesthetic from their bathroom renovation, but unless you're an interior designer by trade, it can be difficult to know which tile choices will help you create the look you're after.
But we can help.
While there are so many different tile options that will suit modern bathroom designs, there are a few stand-out designs that we know work wonders in creating a modern bathroom aesthetic—and we wanted to share them with you!
Here are five of our favourite modern bathroom tile ideas that will hopefully provide the inspiration you're after in 2022 and many years to come.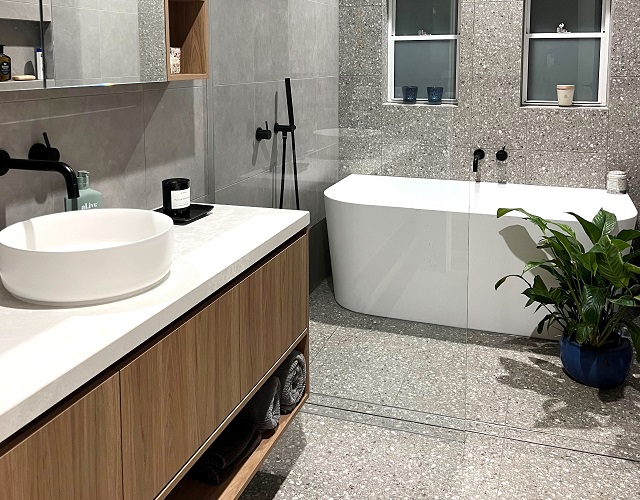 1. Concrete Look Tiles
Polished concrete flooring is something which now features in almost every modern home build, and it's a style that also works seamlessly in modern bathroom designs.
A more versatile, affordable, low maintenance and durable option is Concrete Look Tiles.  Whether you are building new or renovating, Concrete Look Tiles are an excellent choice if you appreciate minimalist design with a raw and natural finish—and our Forma Gravitas range is the perfect example.
Emulating a natural concrete finish, the range comes in a variety of large format size options, from 200x200mm up to 1200x600mm, in both cool and warm colour tones to suit any individual taste.  The porcelain composition with an anti-slip finish means they're hard wearing and suitable for use on both walls and floors.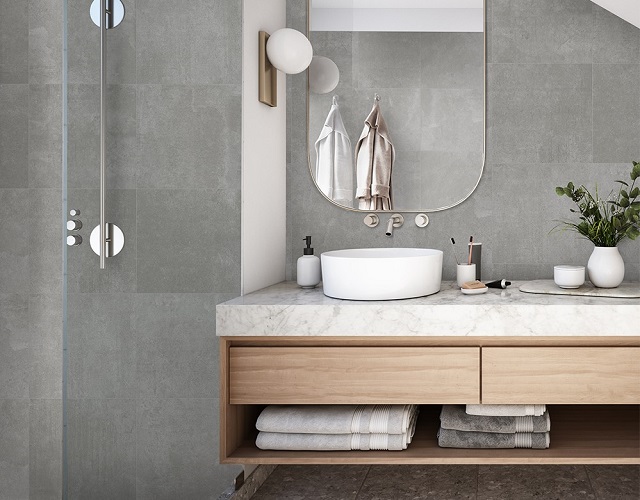 2. Encaustic Look Tiles
While the thought of Encaustic Tiles may instantly conjure up images of highly elaborate patterned designs which are typically reserved only for heritage-style bathrooms, Encaustic Look Tiles also have a place in modern bathroom designs.
Modern interpretations of this traditional tile design are making us rethink how we can add pattern and interest to a modern bathroom space, without channelling a bygone era.
Take our Antica Quattro range for example—not only can it be used to add a pop of colour, but the simplified, circular pattern makes a true statement while still maintaining a clean, minimalist aesthetic.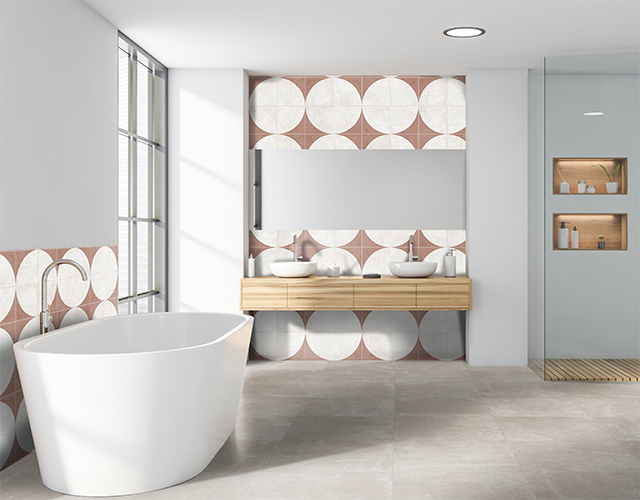 3. Timber Look Tiles
Timber look Tiles are another option which have made a serious revival in modern bathroom design, and it's largely because the colour palette is no longer restricted only to browns and greys.
While we've always loved the warmth that a textured wood grain finish can add to a bathroom, opting for a timber look tile in a blue, green or charcoal will instantly elevate the look to meet today's modern design standards.
Not convinced? Just take a look at our Materia Omni range of timber look tiles and imagine the possibilities.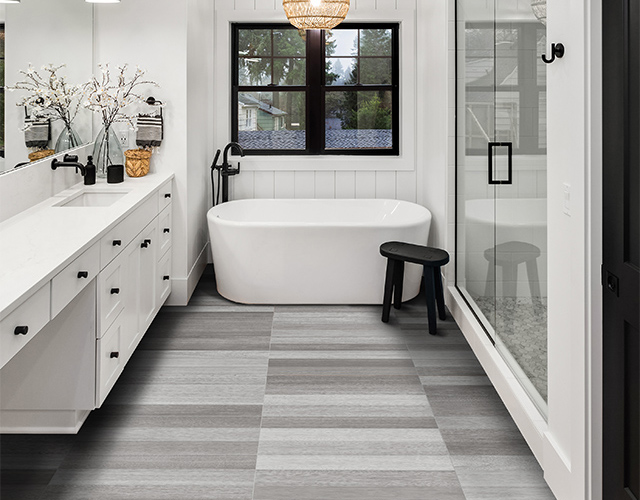 4. Terrazzo Look Tiles
From speckled goodness to the more luxurious crushed stone appearance, there's a reason Terrazzo Look Tiles are back as the statement surface of choice.  Terrazzo was one of the biggest trends in interior design last year and is continuing to be in 2022. 
With an endless range of colours, patterns, and design options there is so much choice when it comes to creating a tranquil bathroom space in your home with Terrazzo Look Tiles.
Try our Terra Palacio range that combines a natural earthy look with an extensive cool and warm colour pallet, a selection of tile sizes and a p4 anti-slip rating.  Terra Palacio also complements other sanctuary makers tile designs.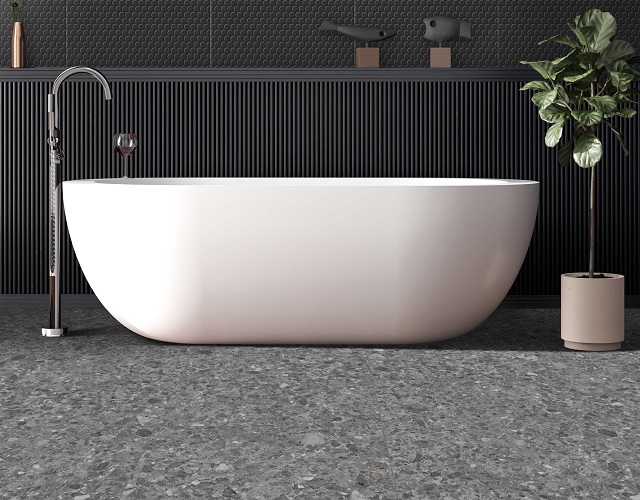 5. Subway tiles
A household favourite for as long as anyone can remember, the classic subway tile is still going strong in the world of modern bathroom design—in fact, we don't think this one will ever go out of style!
There's something about the clean lines and simplicity of a subway tile that allows it to suit almost any style of bathroom. The ability to lay them in a variety of patterns and the wide range of colour options also makes it a highly versatile option.
Still stuck for ideas? Browse our extensive range of Australian made bathroom tiles for more inspiration.