Regardless of whether you are updating a tired kitchen or undertaking a complete kitchen build, one thing is for sure—your splashback tiles will always have a big impact on the look and feel of your kitchen.
Many of us spend so much time in the kitchen preparing meals and entertaining, so why not express your individual style and create a statement in this space with tiles.  There are so many tile options to choose from, so it's important to know what the best tiles for kitchen splashbacks are.
While there's no rule book dictating what you can and can't do, we thought we'd pull together a shortlist of some of the most popular kitchen splashback tiles to help you define what style most appeals to you.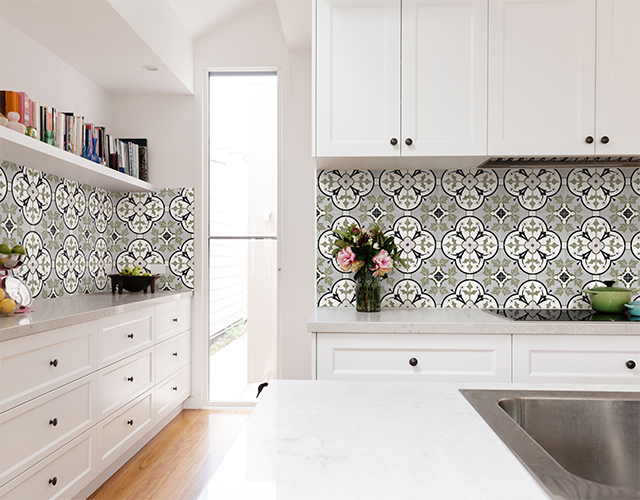 1. Subway tiles
Subway tiles would have to be one of the most popular kitchen splashback tile designs. They're versatile enough to work in almost any space and are suited to a wide range of kitchen interior styles from Hamptons to Industrial.
While the classic white subway is still (and probably always will be) a much-loved favourite, subway tiles have come a long way. Not only are they now available in an enormous range of colours and sizes, but they also give you plenty of flexibility to play with the layout to create a range of different effects.
Laying subway tiles in a stacked pattern is a great way to create a modern look, while a herringbone pattern is ideal if you want to add a touch of elegance. If in doubt, laying them in a traditional brick pattern is a good failsafe option.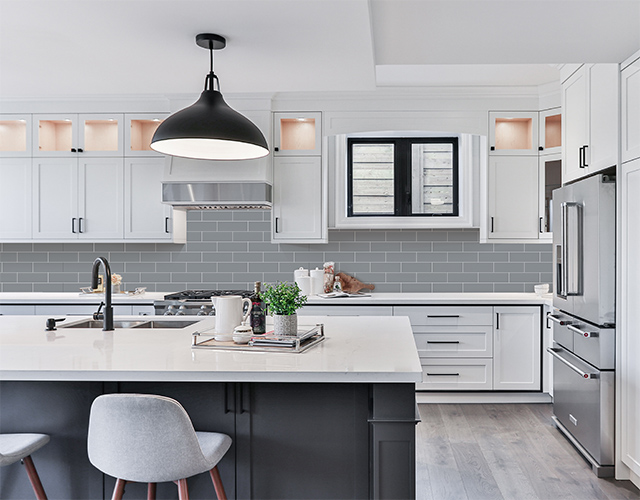 2. Textured tiles
If you want to emphasise a sense of character and charm in your kitchen, textured tiles are ideal.  Available in a wide range of colours, patterns and sizes, Pressed Metal look tiles add a touch of sophistication, depth and texture to your kitchen space.
If you love pressed metal but want to avoid the impractical drawbacks of the real thing, then Pressed Metal look tiles are a great splashback option.  A perfect balance of traditional design that is suited to both modern applications and period architecture.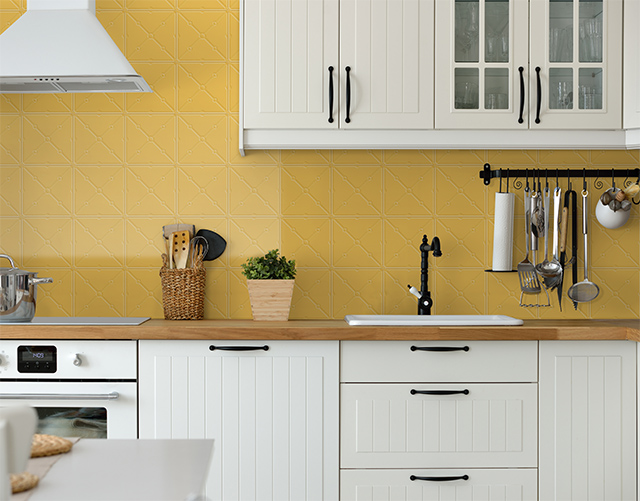 3. Geometric tiles
Geometric tiles are an excellent way to add detail and interest to any kitchen without overloading the space with pattern or colour.
Hexagonal or penny round tiles complement contemporary kitchen designs perfectly, while fish scale/fan tiles work seamlessly with more traditional designs. Whether you opt for a natural stone, encaustic or glazed tile design, geometric tiles will make a real style statement.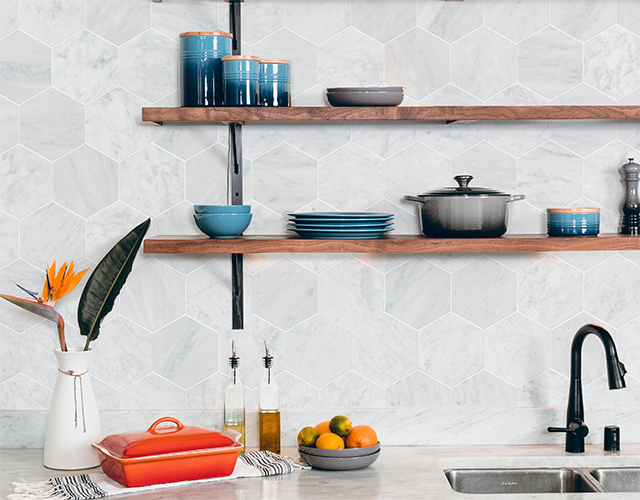 4. Patterned tiles
If you want to inject some personality into your kitchen, a patterned tile is a great way to do it.
Kitchen splashbacks are one of the few areas of the home where you can afford to be bold—while heavily patterned tiles can be overwhelming in some locations, the smaller surface area of a kitchen splashback lends itself perfectly to patterned tiles.
Consider an encaustic or terrazzo patterned splashback tiles which will add plenty of visual interest and instantly bring your kitchen to life.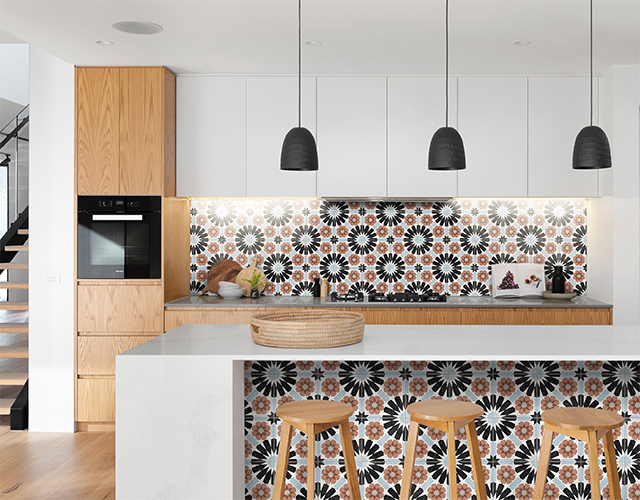 5. Natural stone
Few things can add a sense of opulence to a kitchen as natural stone can.
From classic marble designs to contemporary concrete finishes, each piece of natural stone is unique. It's also durable and it never goes out of style. Whether you opt for a brick, herringbone or geometric design, natural stone tiles lend themselves perfectly to almost any kitchen splashback.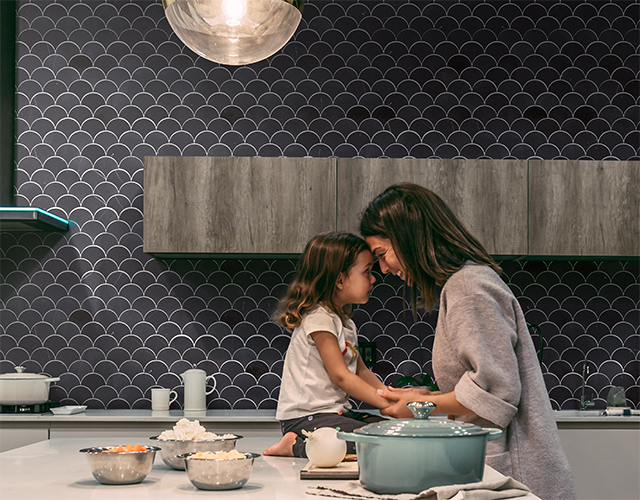 6. Timber look tiles
If you want to emphasise an earthy or rustic feel in your kitchen, timber look tiles are another good splashback option.
No longer reserved exclusively for flooring, rectangular timber look tiles have come a long way. While you can play it safe by sticking to a beige, brown, white, black or grey colour base, there's plenty of scope to go bold with green, blue, pink and even yellow colour wave options.
The flat surface means they're easy to clean and there's plenty of scope to play around with grout colours.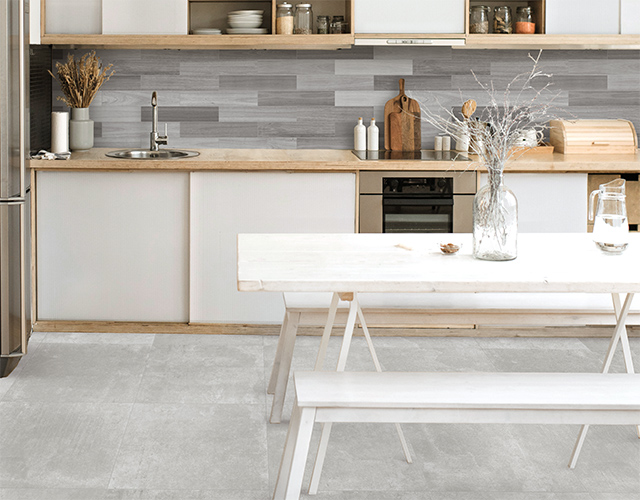 Looking for the perfect tile for your kitchen splashback? Browse our extensive range of Australian made kitchen tiles for some inspiration.