A bathroom is one of the spaces in your home where you can have the most fun with interior design – and nothing helps achieve this better than tiles. Available in various styles and designs, bathroom tiles are an ideal accent to create a beautiful atmosphere, whether you want to create a playful or tranquil look and feel. As an inherently wet area, a bathroom's tiles need to be waterproof and feature durable finishes to properly protect the bones of your home. So, when looking to buy bathroom tiles in Melbourne, you want products that suit your space's style and also provide a dependable, hard wearing finish. At Sanctuary Makers, our range of high-quality bathroom wall and floor tiles offers options for a stylish look that reflects your tastes – while also being highly functional. Available in various patterns, textures, and finishes, our experienced team is here to help you find the perfect fit.

Different Tile Designs for the Bathroom
Whether your bathroom is a large and luxurious space or a smaller-sized powder room, the possibilities for designs that can be done with tiles are endless.  If you're looking to create a calming, neutral space conducive to bubble baths and spa Sundays, our collection of beige terrazzo-look tiles will create a neutral and serene setting. On the other hand, if you want your bathroom to be an outlying haven of colour in an otherwise relaxed and neutral home, our various yellow tiles in either pressed metal, single colour or timber look styles could easily offer this.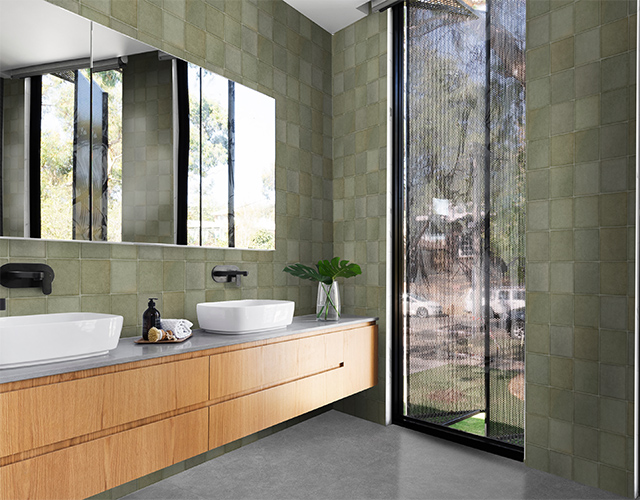 Another popular choice for bathroom tiles is encaustic look tiles – providing intricate and intriguing patterns that transform your bathroom from an average everyday space to a lively room in which to revitalise and refresh.  Other tile types offered by our expert manufacturers at Sanctuary Makers include natural stone and concrete look. Our available colour range is also wide – offering various selections in black, beige, brown, blue, green, yellow, white, pink, and grey.
Features of Sanctuary Makers Bathroom Tiles
Along with being instrumental to a bathroom's interior design, tiles are a necessary element for these spaces for many reasons. Bathrooms need to be built to get wet, and luckily, tiles provide this functionality. At Sanctuary Makers, all of our bathroom tiles are waterproof, durable and easy to clean.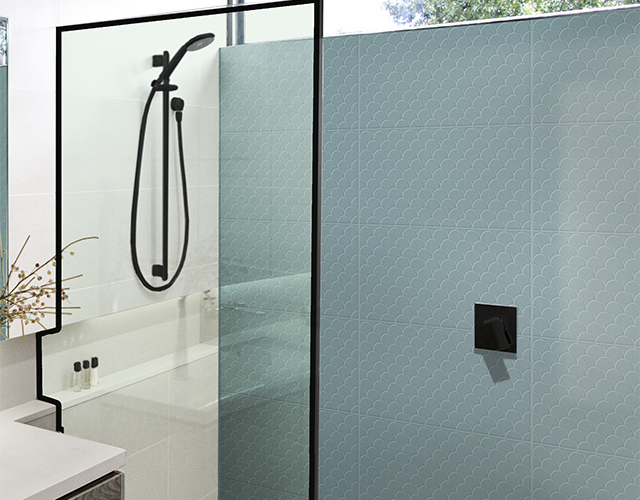 Benefits of Having Tiles in the Bathroom
The benefits of having tiles in the bathroom are seemingly endless. While at first, many are drawn to putting tiles in their bathroom because of the fun design and colour options, they quickly realise that they could have never lived without their practical perks. Tiles are important fixtures for the bathroom, as they boast moisture resistance and are easier to maintain than alternative materials. The types of products commonly used in bathrooms, such as soaps, hair products and household cleaners can damage walls and floors protected by only paints or laminates. As ceramic tiles are non-porous, they hold up against the majority of products you may need to use in your bathroom – and stay looking fresh and clean.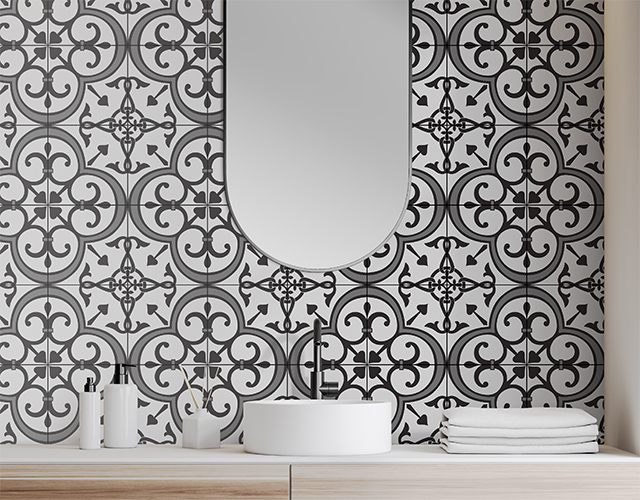 Choosing the Right Tile Design For Your Bathroom
Before getting carried away by all the pretty patterns and possibilities for tile designs in your bathroom, there are a few key things to consider.
1. Decide on Placement
First things first, where are you putting these tiles? Whether the tiles you're looking to buy will cover the bathroom floor or walls, decide on this prior to picking out specific styles, as materials will vary.
2. Determine Your Budget
Having a budget or price range you want to stay within is another good criterion to set prior to shopping. With so many products offered through Sanctuary Makers, this will help focus your search and save you time when browsing.
3. Choose Tile Style
The best part. Once you know where your tiles are going and how much you would like to spend, have fun browsing various colours, patterns, and style types. Order samples and get creative testing out what potential designs will look like in your space! Plus, our handy tile visualiser can also give you an idea of how different tile styles will look in your home.


How to Buy Bathroom Tiles in Melbourne
As a fully Australian-owned business with over 30 years of experience, our team at Sanctuary Makers manufactures all of the tiles we offer ourselves. We provide the very best bathroom tiles in Melbourne, specialising in both quality and style. Order samples today, and contact us for more information!