As one of the most used and lived in rooms of a home, it is important that your bathroom space is designed with functionality without compromising on style.  If you are building new or renovating your bathroom, tiles are a perfect surface to work with, are low maintenance and can fit many budgets, styles and looks.
At Sanctuary Makers, the people that sell the tiles make the tiles – right here in Australia.  With over 30 years of manufacturing experience and delighting our customers with quality products we know the latest in bathroom trends and what looks good. Today, we have a wide range of wall and floor tile designs perfect for bathrooms and here are just a few to inspire you.
Go Geometric
Although geometric patterns have been used in architectural and interior design for centuries, they have become increasingly popular in many home styles this year.  Whether it be defined by shape or bold patterns and colours, a geometric aesthetic in your bathroom is visually appealing and adaptable. In addition to being highly versatile, geometric patterns can certainly enhance a space.
From floor to ceiling to a feature wall to full floor coverage, bold geometric tiles provide visual interest, add texture and dimension. Particularly for floors, opt for tiles that have an anti-slip rating and go for contrasting grout to achieve a bolder statement piece.  For a modern bathroom design go for pieces that vary in shade and colour patterns such as monochrome or use colour pops for added visual interest.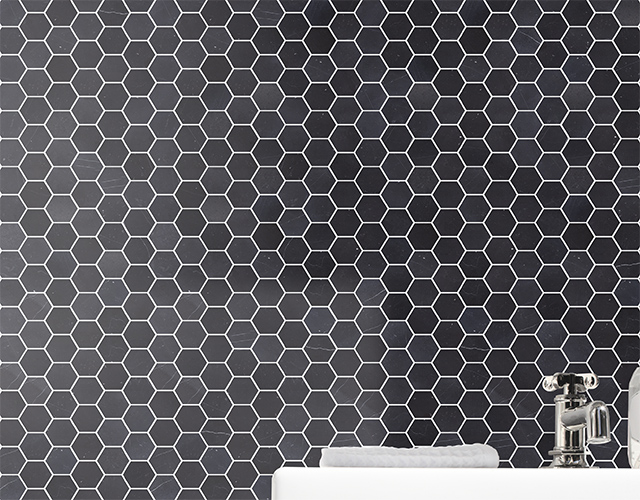 Hamptons Style
The Hamptons style continues to be popular and comes in many forms from coastal to classic, delivering a sophisticated and timeless look no matter what.  Featuring a neutral colour palette with a hint of blue, shaker style cabinetry is a must in addition to an abundance of natural light.  Stone and subway tiles are commonly found in this style bathroom; however the emergence of pressed metal and encaustic look patterned tiles are increasing in popularity.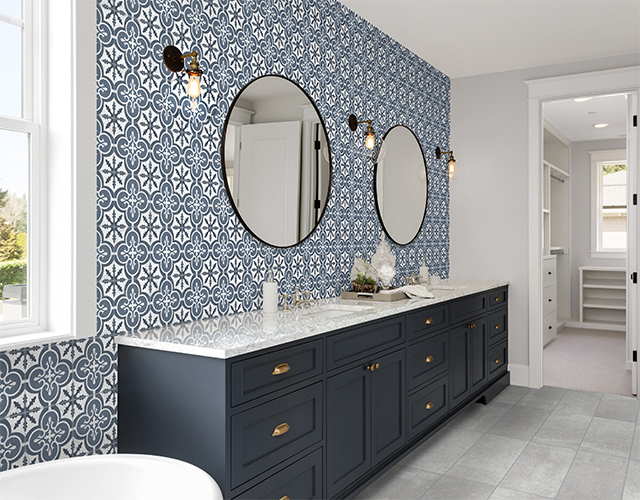 Art Deco
The resurgence of Art Deco has been a big bathroom design trend in 2021. Decorative tiles and marble mosaics work well in both small and larger formats. Vanity walls and shower feature walls have become vintage masterpieces with fan-shaped, herringbone or vibrant patterned tiles a popular choice. Deep colours with metallic accents that match well with decadent mirrors a key feature - and don't forget the luxurious beauty of a freestanding bathtub!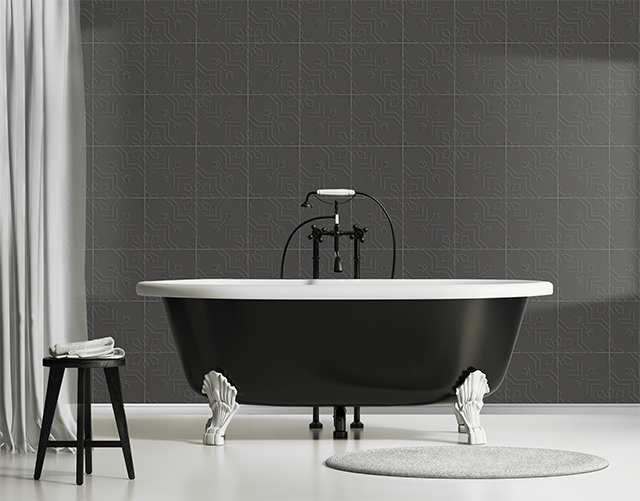 Nature Inspired
As the name suggests, a sense of nature includes an organic colour palette. Deep greens, rustic reds and aqua blues through to the neutral tones of browns, beiges and white have been popular in 2021. You might draw upon the tonal variation found in natural stone, wood and water. Balancing tranquillity and warmth, nature-inspired forms and natural materials are perfect for the bathroom.
Consider materials on floors and walls that offer natural beauty such as stone, concrete and marble that can be incorporated to add contrast and durability.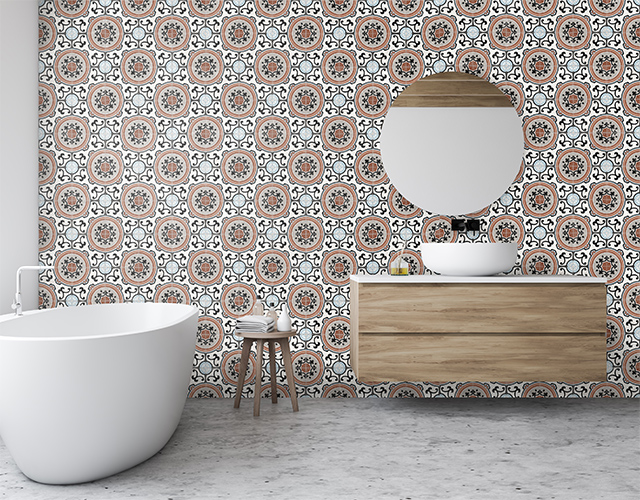 A bathroom renovation and design doesn't have to be difficult. At Sanctuary Makers we have bathroom tile options to suit walls, floors and any space in between. It can be overwhelming to decide which is best for you, so we've made it easy.  Use our online visualiser tool or come into our showroom for all the advice you need.  Whether you're looking for tiles, stone or mosaics, floor or wall, indoors and outdoors, our extensive range has the latest options to suit your style.
We'd love to hear from you if you have any questions or need some design trend advice. Contact us today!